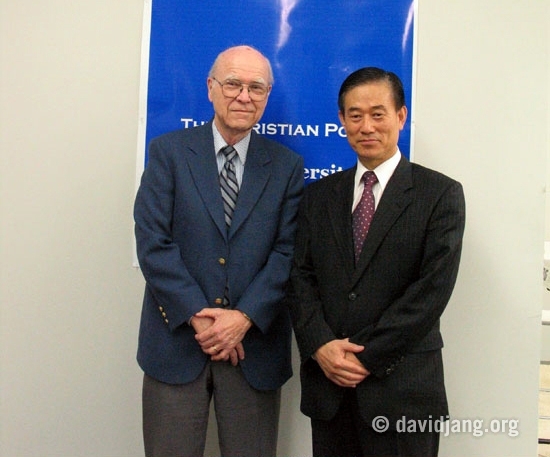 Apostolos Missions International was originally founded as Apostolos Campus Ministry (ACM) in 2002 by Dr. David Jang and students from Olivet Theological College and Seminary (OTCS). The organization was first launched in Los Angeles, California with students who were moved by the Holy Spirit to begin meeting for small group bible studies and witnessing Jesus Christ to their fellow classmates.
ACM developed with the focus of reaching out to university students who are thirsty for the Word of God and desiring to continue God's mission. The early pioneers of ACM believed strongly that today's universities shape tomorrows leaders, and their dream was to transform the world by helping to guide students on their spiritual journey to pursue goals that more closely resemble the Kingdom of God.
ACM officially became Apostolos Missions International (AMI) in December 2003. Missiologist Dr. Ralph Winter served as the first honorary chairman of AMI. Winter and the staff of the U.S. Center for World Missions graciously advised the AMI student board on how to develop mission around the world. Winter was known for his creative approach to missions and his strategies to overcome cultural and societal barriers to delivering the Gospel of Jesus Christ. AMI sought to continue that legacy to reach the unreached youth of today.
AMI moved its headquarters from the West Coast to Dover, New York in 2015. The scope of mission expanded to include not only students, but also young adults in urban societies and developing countries. The headquarter center serves as a hub of resources and training grounds for young missionaries to evangelize, teach the Bible, and develop mission strategies more effectively in their city.
AMI's tradition of Word, fellowship, and service has spread to numerous U.S. schools over the years including Harvard University, Columbia University, UC Berkeley, UCLA, Wesleyan University, Northwestern University, and more. The network has developed in various countries around the world including Canada, Cambodia, South Korea, India, Laos, Kenya, Vietnam, Japan, Uganda, Zimbabwe, Rwanda, Tanzania, Egypt, and more.
Apostolos Missions International is presently a member of World Olivet Assembly and the World Evangelical Alliance.