AM International is a world-wide community of believers dedicated towards the spreading of the Gospel across university campuses.
AM fosters a Christ-centered network of young Christians for the mobilization of campus mission.
The youth are the leaders of today. AM seeks to empower our leaders with the Word of God so that they may lead with the power of truth.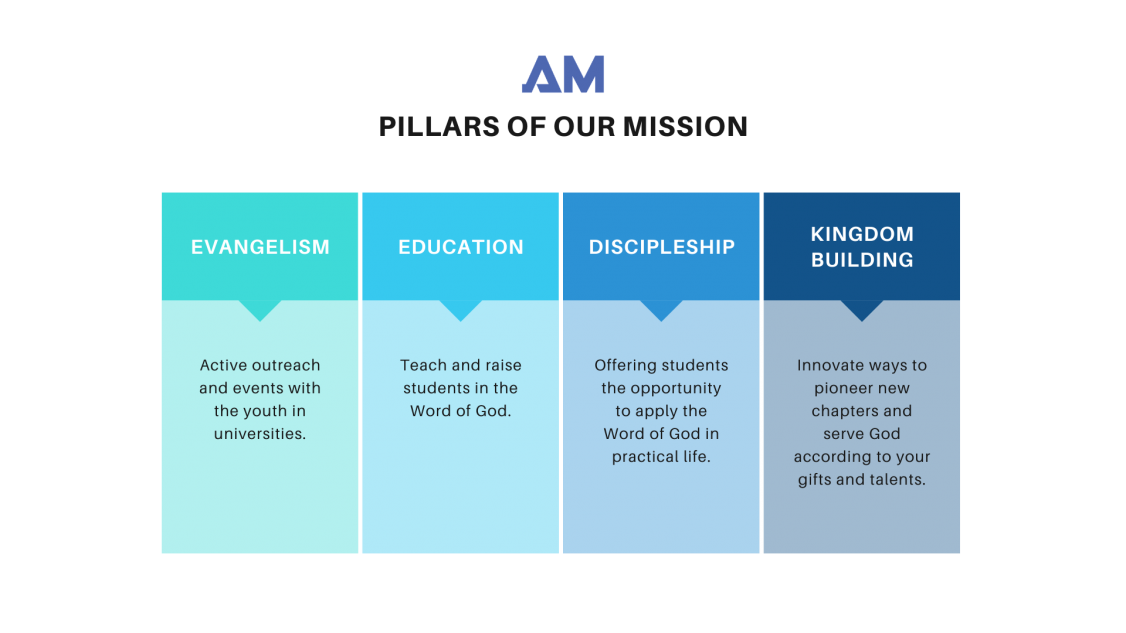 AM staff, volunteers, and members use their talents and gifts to participate in God's mission of teaching the Gospel and making disciples among the youth of the world. Our small/large group Bible studies, leadership training, online education, and short-term mission trips provide countless opportunities for young people to participate in God's mission. Our main departments for basic operation include
Empowering Future Leaders
Raising today's youth to impact tomorrow
This department is at the core of everything AM is and does. We wish to go and make the disciples of every campus in every nation. We are not only consumers of the grace of God, but we wish to share it in accordance with the Biblical instruction.
AM International wishes to strengthen and awaken Christians and non-Christians and ignite them with a passion to share the Gospel of Jesus Christ to the world. The department leaders suggest various methods of outreach and discipleship.
Hosea 4:6 says, my people perish because of a lack of knowledge. Paul says again in Romans 10:2 that the Israelites have a zeal for God, but not based on knowledge.
University campuses are filled with secular knowledge. The ultimate authority in life is not the Bible, but it is human reason and worldly knowledge.
AM International wishes to reaffirm the authority of the Word and uphold it as the center and the treasure of our lives. This department focuses creating Bible study materials, resources, and activities all with the focus of understanding the truth of the Bible better.
All of AM International's precious resources have been carefully designed and carried out by the IT & Design department.
These artists and engineers use their gifts to create websites, flyers, and beautiful art to spread the Word about this ministry and lead more people to Christ.
This department supports the website development and resource formation in technical and creative aspects.
A bowl to contain all the parts of this body
This department is the hub of all of AM International's operation. The team graciously manages the website content, chapter reports, finances, public relations, and human resources.
Administration provides a bowl to contain all the parts of this body. It provides the proper leadership and order so as to function smoothly and facilitate greater growth and goals.